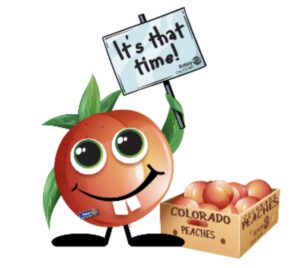 Hi, Keene here. Yes, the Golden Rotary Peach Ambassador. We are selling Palisade Peaches!
COST: $47 / box
BUY ONLINE: Click Here
PICKUP WHEN AND WHERE: Peach Pickup Day is Saturday, August 20, from 8am – 2pm in the Golden High School parking lot (701 24th Street, Golden, CO)
QUESTIONS? Email me at GoldenRotaryPeaches@gmail.com
Peachy Regards!
Your Golden Rotary Peach Team
DOWNLOAD COLORING CONTEST IMAGE: Click Here